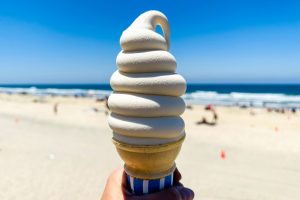 Beachside Ice Cream: Sand, Surf, and Sweet Treats
Summertime in San Diego is synonymous with sunshine, sand, surf, and sweet treats.  It's the most beautiful time of the year, and although our amazing city is a destination for many vacationers, lots of us are lucky enough to live here year-round and enjoy the most magical weather.  San Diego has always been known for having the ideal climate and laid-back lifestyle, but this really comes alive during the summer months.  It's during this time that you will find beachgoers taking advantage of the many water sports available like surfing, paddleboarding, and kayaking—embracing the outdoor spirit of the city.  Summertime in San Diego is filled with days of endless sunshine, spectacular sandy beaches, and the most perfect surf.  The only thing that could possibly make it better is the quintessential summer sweet treat….  Ice Cream!  
Picture yourself on the gorgeous Pacific Beach coastline parallel to a bustling boardwalk complete with vendors, walkers, bike riders, and strollers.  There you find the most perfect coffee/ice cream shop; Glazed Coffee & Creamery.  You can feel the warm sun, the coastal breeze, and realize how perfectly it would combine with an iced coffee or delicious ice cream treat.  Well, look no further!  Glazed Coffee & Creamery on Ocean Blvd in Pacific Beach can make those summertime daydreams a reality.  We combine the best of summer in San Diego; sunshine, sand, surf, views, people-watching, and of course, delicious coffee and ice cream.  
Our ice cream cone is 'drool worthy' with a traditional swirl design that's large enough to satisfy any craving.  Enjoy our classic flavors of Vanilla, Chocolate, and Vanilla/Chocolate Swirl.  But, don't stop there!  Take your treat to the next level with one of our decadent glaze options: Blue Raspberry, Peanut Butter, Butterscotch, Birthday Cake, Cherry Chocolate, or White Chocolate.  
Feeling like more of a shake than a cone?  We have the same classic flavor options, plus we can add one or more of our many delicious toppings including Oreos, Butterfinger Bits, Caramel, Strawberry, Coffee, and Peanut Butter.  
Craving more of a caffeinated pick-me-up than a sweet treat?  Our iced coffee is the perfect drink choice for morning, noon, and evening.  With our large variety of milk options (almond, soy, oat low-fat, whole, coconut, eggnog, half and half) and a wide range of flavors (caramel, vanilla, sugar-free vanilla, horchata, hazelnut, sugar-free caramel, matcha, pumpkin spice, peppermint, Irish Cream, lavender), you will have every option available to customize your own perfect drink. Take it with you as you take a walk down the beach or the boardwalk and bring your summertime walking experience to the next level.  
Visit us today at Glazed Coffee & Creamery right on Ocean Boulevard in beautiful Pacific Beach, San Diego, and let the sun warm your body, the sand tickle your toes, the surf invigorates your spirit, and our sweet treats delight your taste buds.  This is the place where simple pleasures are enjoyed with delicious treats and lifetime memories are made. We promise you will have an unforgettable experience while enjoying the true essence of summertime in San Diego.