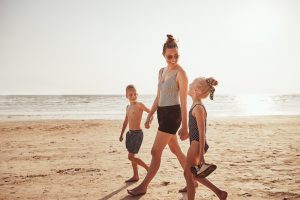 Back-To-School — You Need Coffee and More
Sharpen your pencils, it's time for back-to-school season!  The end of August in San Diego, California means that students are heading back to school, and parents are redefining their days.  Whether you are a work-from-home parent, stay-at-home parent, or work outside-of-the-home parent, you are likely restructuring your days to accommodate the back-to-school drop-off and pick-up into your routine.  
There isn't a better way to start your morning than with a delicious coffee and a side of ocean view.  After drop off, head over to Glazed Coffee & Creamery located right on Ocean Blvd in Pacific Beach, San Diego.  Choose from our many options of specialty coffees and teas to start your day while you sit steps from the sand taking in the ocean air and seaspray.   We promise you there isn't a better way to start your morning.  
Or, share the joy!  Are your kids having trouble waking up earlier to get out the door?  Entice them to get out of bed by bringing them along on your stop at Glazed Coffee & Creamery.  There are plenty of kid-friendly options including chocolate milk, apple juice, orange juice, organic milk, and non-caffeinated drinks.  Hungry?  Start everyone's day with a delicious and nutritious snack by fueling your body with a scrumptious Beach Bomb complete with your choice of egg filling (Bacon+Egg+Cheese, Egg + Cheese, Spinach + Mushroom + Ricotta, Sausage + Egg + Jalapeño + Cheese, or Sausage + Egg + Cheese).  Looking for a gluten-free option?  Our Almond Energy Bars locally made with almond butter, rolled oats, honey, and chocolate chips are sure to hit the spot.  These will get you and your student ready for a productive day.  Craving a sweet treat?  Our Cinnamon Rolls are always a crowd-pleaser.  Try one for yourself and find out what everyone's talking about.
When afternoon hits, so does the slump.  Treat yourselves after a long day at work/school and keep that workflow going.  You'll be the favorite parent in the pick-up line when you tell your kids you're heading over to Glazed Coffee & Creamery for an after-school sweet treat.  Head over to Glazed Coffee & Creamery for a delectable soft-serve ice cream topped with one of our many glaze options.  Just don't be surprised when they want to return every day, and you can't blame them when there are so many delicious glaze options to try!   Our vanilla, chocolate, or vanilla/chocolate swirl soft serve ice cream can be topped with your glaze choice of blue raspberry, peanut butter, butterscotch, cherry, birthday cake, chocolate, white chocolate, or orange. Just looking at it will have your mouth watering!  Remember to bring your shovels and spend some time building a sand castle while there!  Or have your student bring their homework to complete seaside while you respond to work emails or order groceries!
Glazed Coffee & Creamery is ready to serve you.  Come see us at 4449 Ocean Blvd, San Diego, CA today to get you going in the morning, get you through your afternoon slump, or reward you for another job well done.  We are proud to serve you the best coffee, breakfast, and ice cream in PB.  You deserve it!