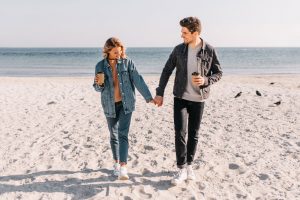 Your Go-to PB Coffee Shop for Delicious Brews & Treats
By now, you are likely knee-deep into the school year, and long gone are the lazy, hazy days of summer.  Lucky you, living in San Diego, California, the summer can feel like it never ends.  Endless sunshine makes tourists and locals alike flock to Pacific Beach to enjoy all that America's Finest City has to offer.  One look at the white sandy beaches leading into the vast Pacific Ocean drenched with California sunshine and you are soon to realize there are few places that can compete with this one.  
Although we are lucky enough to call this place home, let's face it, everyone is still Working for the Weekend (admit it—you know you sang the words in your head while you were reading them).  Most of us are students or workers putting in a solid 9–5 so that we can enjoy our 5–9 (or 5 to 2am— we won't judge).  Working hard comes with its rewards, yet, can't happen without fueling the body.  That's where we come in….
Glazed Coffee & Creamery, also known as the best coffee shop in Pacific Beach, steps from the beautiful southern California sand, is here to give you the fuel you need to get through your daily 9–5.  Whether you need a caffeinated or decaf drink to start your day, or one to get you through the midday slump, we are here to brew up a fresh cup of whatever you need.  We make delicious Cappuccinos, Macchiatos, and Lattes as well as mouth-watering cold drinks like Iced Coffee and Matcha Lattes.  Also on the menu are grab-and-go apple juice, orange juice, bottled water, and chocolate milk.
Hungry?  Man can't live on drinks alone so let us give you the food to fuel your body and get through the day.  Enjoy the boardwalk in PB while devouring one of our delicious Beach Bombs—delicious bread stuffed with several options such as egg, bacon, and cheese;  spinach, mushroom, ricotta;  sausage, egg, and cheese; etc.  We also have cinnamon rolls and locally-made gluten-free energy bars. 
Feeling like you deserve a sweet treat after a long day?  We don't blame you!  Come find out where our name, Glazed, came from!  We serve the best soft-serve ice cream you will have this side of the Mississippi in vanilla, chocolate, and vanilla/chocolate swirl.  Here comes the best part—top that delicious soft-serve ice cream cone with one of our delicious glazes.  You'll never look at ordinary ice cream the same way again and you'll wonder how you've gone so long without this in your life. The biggest problem will be choosing your glaze flavor from our list of options: Cotton Candy, Blue Raspberry, Peanut Butter, Butterscotch, Birthday Cake, Cherry, Chocolate, or White Chocolate.  We are certain to see you again soon after you have one of these mouth-watering desserts.  
So, what are you waiting for?  PB's best coffee shop is ready to serve you a custom drink, snack, or dessert.